PADI Divemaster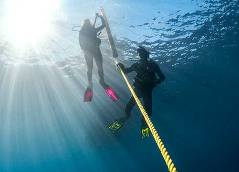 Train With Dive In Cyprus to become a PADI Divemaster.
How to take the first steps to become A PADI Professional.
PADI Instructor Development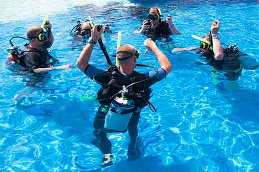 PADI IDC In Cyprus with Dive In.
Click Here To For Information on becoming an Open Water Instructor.
PADI IDC Dates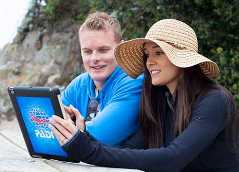 Click Here For Dive In Limassol 2021 IDC and PADI IE Dates.
Why Dive In, Limassol Cyprus For Your IDC
Dive In has been successfully running IDC's for over 16 years, in this time we have qualified over 1,530 PADI Instructors!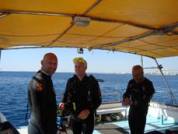 PADI as we all know is the brand leader in Scuba Diving Tuition, renowned for its Professionalism, Dive In lives up to this in our training, which is why we have been so successful in training Instructors over the years, and been recognised by PADI as such.
We have our own in house Course Director, not a Course Director that flies around the World joining Dive Centre's just for their IDC's. He is highly experienced and has been with us for over 10 years. Indeed, he is a past PADI Platinum Course Director, a distinction that sets him and us apart from the others.
Instructors trained by Dive In, are held as being trained to the highest of standards and hence are more able to secure a position in the Diving World.
We are so confident in our Course Director and training, that should you fail the IE, we will pay for you to retake your IE with us!!! This offer which we are confident we can stand by, will be granted after your first few days with us.
Dive In also offers as part of our IDC package, Master Scuba Diver Training Preparation, whilst on your IDC we will train you with 5 Instructor Specialties, so once you have issued 25 Certifications, as an OWSI (Open Water Scuba Instructor), you can apply to PADI for your MSDT qualification. This along with your EFR Instructor rating, will make you highly desirable to Dive Centre's.
Dive In keeps our numbers of candidates deliberately low, so that you get the personal help, guidance and tuition you deserve, our Course Director is on hand at ALL times, and personally takes all presentations, both classroom and in water. This means you can gain that extra experience from his hands-on teaching, imparting his vast knowledge to our candidates.
Before you join us we will send to you some presentations and questionnaires, to help get you up to speed, we will also advise you on the necessary studying you will need to do, to ensure you are fully prepared for your Course.
At Dive In, Cyprus we offer at least 4 Instructor Development Courses (IDC) each year culminating with the PADI Instructor Examination (IE). Our IDC's are held over 15 days, with a final 2 days for the IE.
See the dates here
If you are serious about becoming a PADI Professional, you will want the best possible training, this you WILL get from Dive In. We may even be able to offer you a position after you have completed your OWSI, or give you some real hands on practical experience, helping to build your CV, along with help in preparing your CV for future job applications.