PADI Divemaster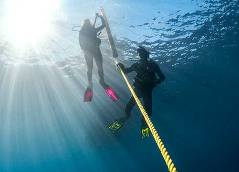 Train With Dive In Cyprus to become a PADI Divemaster.
How to take the first steps to become A PADI Professional.
PADI Instructor Development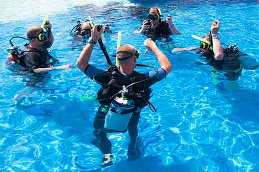 PADI IDC In Cyprus with Dive In.
Click Here To For Information on becoming an Open Water Instructor.
PADI IDC Dates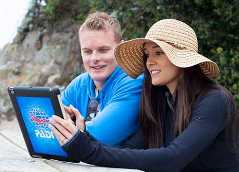 Click Here For Dive In Limassol 2021 IDC and PADI IE Dates.
How To Become a PADI Divemaster In Cyprus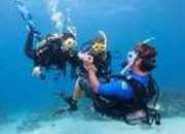 PADI Divemaster is the first level in the PADI Professional System. You will perfect your leadership skills whilst expanding your diver knowledge, and increasing your confidence. A PADI Divemaster can be trained by a PADI Instructor, hence these can be completed at any time across the year without the need for attending an IDC with a Course Director.
The Divemaster Internship is made up of water skills, stamina exercises, along with training exercises to stretch your organisational skills, as well as learning to mentor and motivate divers and enhance your ability in problem solving. Plus learning a lot more about dive theory.
Prerequisites
You must be 18 years old, be PADI Advanced Open Water along with PADI Rescue Diver, be up to date with Emergency First Response Primary and Secondary Care, have at least 40 logged dives with experience in night diving, deep diving and underwater navigation, reaching 60 logged dives to get your certification.
You must also be fit to dive, you can download the medical statement and submit it to us in advance. Click below and find the statement.
On passing your Divemaster you will be able to:
1. Supervise both training and non training-related activities by planning, organizing and directing dives.
2. Assist an instructor during confined and open water training.
3. Guide Open Water Diver course students on the tour portion of Open Water Dives 2, 3 and 4 at a 2:1 ratio, under the instructor's indirect supervision.
4. Accompany Open Water Diver students under the instructor's indirect supervision during surface swims to and from the entry/exit point and during navigational exercises; as well as supervise remaining students when the instructor conducts a skill.
5. Accompany student divers during Adventure Dives or specialty course dives under the instructor's indirect supervision.
6. Teach and certify PADI Skin Divers independently. This also includes conducting the PADI Seal Team AquaMission: Skin Diver Specialist.
7. Conduct the Discover Snorkeling program.
8. Conduct subsequent dives under an instructor's indirect supervision for Discover Scuba Diving participants at a 2:1 ratio, after participants have satisfactorily completed the first dive with an instructor.
9. Conduct the Discover Local Diving experience.
10. Conduct the Scuba Review program for certified divers, or for PADI Scuba Divers who are refreshing their skills.
11. Conduct the skin diving skills segment of the Open Water Diver course during any confined water dive.
12. If qualified as a Discover Scuba Diving Leader, independently conduct Discover Scuba Diving in a pool or in confined open water.
13. Accompany certified PADI Scuba Divers on subsequent dives.
14. After completing the corresponding instructor training, conduct:
a. Digital Underwater Photographer specialty courses under the direction of a PADI Instructor.
b. Emergency Oxygen Provider
At Dive In, we can complete your Divemaster Course in as little as 14 days, assuming you have the required number of dives to start the Course, (40 dives). Alternatively, if you have more time, why not consider doing an internship with us, this will give you not only the the Divemaster qualification, but you will also gain experience of in working in a Dive Centre, giving you an all round experience with actual hands on experience of working with customers, planning dives, leading dives and becoming a part of the Dive In Limassol team.
On your PADI Divemaster Course in Cyprus, you will be mentored by the Instructors, we will explain our thinking as well as impart our knowledge. This relationship does differ from normal Student/Instructor, as we are preparing you to join the ranks of a PADI Pro. For further details on any of our Professional Training, follow the link below.
We will to respond to you with in 24 hrs